Local 706 | Airbrush | Film | Studio | Print | Special Effects | On Location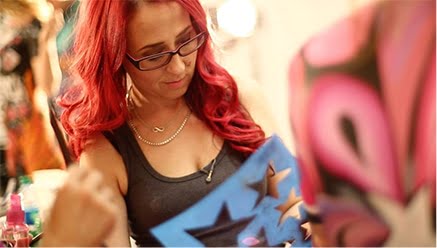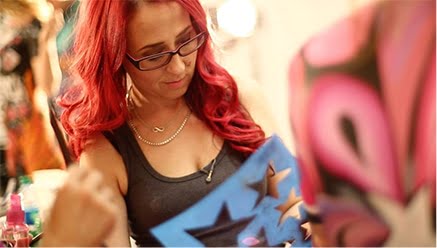 Kelly Belmonte fell in love with makeup when she was a kid and turned that love into a career in 1997. As a child she would do theatre and haunted houses, both performing and doing makeup. When she was 17, she left the midwest, started her life in Las Vegas and her career was born. Since then, she has worked on countless productions, movies, television shows, commercials, ad campaigns, corporate events, award shows, even landing a television show on Syfy showcasing her company, Naked Vegas and the incredible art she and her crew create. Kelly also has been blessed to earn two Emmy nominations along with the teams that worked on Ms. Congeniality 2 and Angel for their work in the makeup dept. The love of her work shines through in everything she does.
Naked Vegas is Las Vegas' premiere one stop shop for all your body paint, skin art, makeup, hair styling, and special effect needs. If you are looking for a cool costume that creates a stir, wins contests or entertains we are the ones to call. From conventions, parties, advertising campaigns, night clubs, contests, weddings, or any event your mind can steam up, Naked Vegas has something for you. Syfy TV stepped into our insanely creative world to film it for the world to see. So not only can we paint for you here in Vegas, or anywhere you hire us to go, you can also watch us on Syfy.
• The Odds Emmy Nominations
• Angel W.B.
•
Today Show
•
Get Him to the Greek
•
The Hangover
•
Durango Kids, HBO Family
•
Undisputed – Wesley Snipes
•
Looney Toons – Warner Bros.
•
Domino w/Kiera Knightly
•
Lucky You – Drew
Barrymore
•
Ocean's 13
•
Miss Congeniality 2
•
21
•
What Happens in Vegas
• So You Think You Can Dance
2007
/
2008
/
2009
• Last Comic Standing, NBC
2004
/
2005
/
2007
• Jerry Lewis Telethon 2001 /
2002
/
2003
/
2004
/
2005
/
2006
/
2007
/
2008
/
2009
•
Spy TV, NBC
• Say What Karaoke, MW
2000
/
2001
•
American Idol, Fox (Season 1)
•
Sopranos (last season, Las Vegas show)
•
Case Reopened: Black Dahlia Murder, TLC
•
Case Reopened: Zodiac Murders, TLC
•
The Strip Television Series, WB
•
The O.C. Warner Bros.
•
Rock Wives VH1 2009
•
CSI, Las Vegas Retro Episode
•
CSI, Las Vegas, Behind the Scenes 2003
•
World Series of Poker 2005
•
Scare Tactic Sci Fi Season 2-Multiple Episodes
•
Britney Spears Live from Las Vegas, HBO Special
•
Real World Reunion Spring Break
• America's Got Talent Live 2008, 2009, 2010
• Showtime Friday Nite Fights
• BBC Trump, Miss America
• Dana White, (UFC), CNBC 2008
• World Series of Poker
• Searching for My Prince